Create The Classic Chignon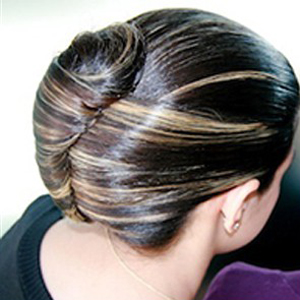 With Valentine's Day just around the corner, you want to look your best for that special someone. One of my favorite looks is the classic chignon, an elegant hairstyle that looks beautiful on just about anyone. While it might look a little complex, I assure you it's simpler than you think!
Learn How To Master The Classic Chignon
Just follow these handy step-by-step instructions to achieve the classic chignon look. Remember to get in front of a mirror though so you can watch what you are doing.
1. Backcomb your hair a bit to give it some "grip" then sweep your hair to one side. Place bobby pins down the middle, back of your hair, crossing them over one another for maximum hold.
2. Take the hair you've gathered at the side and gently brush it toward the back. Now, wrap the hair around your hand, twist it up and tuck it in to create a smooth roll.
3. Secure the chignon at the top with bobby pins. Place the looser-hold hairpins in and up through the chignon to secure the hold. Apply a little hairspray.
And there you have it! A classic chignon hairstyle. Now wasn't that a straightforward process?
What Other Chignon Styles Can You Do?
The classic chignon hairstyle is nothing short of elegant, but that doesn't mean you need to do the same thing every time. There are plenty of variations on the classic style that are surefire ways to wow others and make you feel truly special.
Do you want a more sophisticated look that will surely turn some heads? Then try to create a more formal updo by twisting your hair around the base of the bun for more curved lines.
Or are you interested in a more complicated look? If so, then you may want to consider integrating a dutch braid into your chignon. Just start out by doing a thick dutch braid around the side of your head and feed it into the bun or wrap it around the base.
There are so many variations to try on this classic style! The sky is the limit, so just give some new styles a try on occasion to find the perfect chignon for your needs.