4 Summer Hair Care Tips For Healthy Hair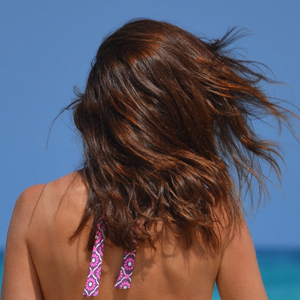 Summer is just around the corner once more, which means we'll have several months of intense heat and plenty of gorgeous sunshine. It's time to make sure you're ready to look your best in the fun summer weather, regardless of your hairstyle. Short and sassy, bright and beautiful, all types of hair deserve to look their best in the summer heat. That's why we are following up my last article on summer hair care with 4 more highly effective summer hair care tips.
If you read our last article, then you know it's time to lighten your hair — both in color and in volume. I normally recommend that my clients start their summer transition in May, so that way they are ready to go when the real hot weather starts. When you can officially and comfortably wear your shorts and flip flops again, it's time to come on in to lighten your look.
Keep Your Hair Healthy With These Summer Hair Care Tips
As you care for your hair in the summer, your main goal should be to retain your hair's moisture. We all tend to shower a lot during the summer and that naturally leads to people overusing shampoos on a daily basis. Over cleaning your hair strips it of natural oils that help retain moisture. As you become more active in the summer, you may wash your hair more and more frequently, so please try your best to remember these essential summer hair care tips:
1. Reduce the temperature of your water. Hotter water will not only take out more moisture from your hair, it can also damage your scalp and make it more itchy. Warm water is okay, just remember to avoid high temperatures in the shower.
2. Lather shampoo primarily at your scalp. Don't scrub it through to the ends; we assure you that your hair ends will still get clean enough without any extra effort.
3. Make sure to replenish your moisture with a good conditioner. After all, in the summer you're more likely to be active on a regular basis, so may end up washing your hair more frequently. Conditioner will help replenish your hair's moisture that is stripped out during washes. I like the light, spray on and leave-in conditioners such as Pravana's Nevo Intense Therapy Conditioner.
4. Try a conditioner from our new product line, straight from one of the most exclusive salon suppliers in the country: SEVEN. They have a wide array of high-quality conditioners, but my favorite is undoubtedly Lustre, a daily conditioner that adds dimension and shine.
So there you have it! 4 actionable summer hair care tips to help keep your hair healthy and gorgeous for the entire season. If you need more helpful advice, don't hesitate to reach out to me directly.